Founded in 1996, Azof International set out itself to be a leading Manufacturing Industry in tools manufacturing industries. The company is a member Sialkot Chamber of Commerce and Industries (SCCI), Pakistan Trade Union (PTU) and ISO certified.
We have been an established and popular company with an excellent track record for best customer satisfaction. We never compromised on the quality and services provided to the customer. We believe in keeping the customers happy and providing them with products at a very competent price. we excellent staffs who will guide you with their best experiences and keep in touch with your company.
We are specialized in manufacturing Watch & Jewelry Making and Repairing tools.Our quality, competent prices and on time delivery are well appreciated in the international market
History
---
The founder of the Azof International came to Pakistan in 1947 and started manufacturing many kinds of TOOLS by handmade. Our handmade Tools were very appreciated in our local market. Many companies purchased our Tools and exported them to the international market. In the meanwhile, his son (CEO) registered the Azof International SCCI and got the Export License in 1996 and started regular export in the international market. While we sadly lost our founder in January 2000, his legacy and words of wisdom remain.
Mission
---
We have been established and popular with an excellent track record for best customer satisfaction. We never compromise on the quality and services provided to the customer. Our Motto is to provide the best quality, the most competitive prices, and the fast delivery services. We can produce all TOOLS as per customer's specifications, drawings or according to the samples provided by the customers. Our company's staff will guide you in all business affairs.  All tools are physically checked by our QA Manager.
Vision
---
Our vision is to be the premier provider of tools to our customers with premium quality and outstanding services.
Goals
---
Accurate and High-Quality Products
On-Time Delivery
Customer satisfaction
Meet with technology advancements
Departments
---
Sales and Purchase
Production
Quality Assurance
Finance
Humane Resource
Managerial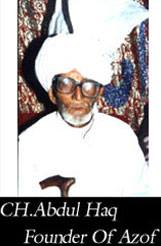 Our founder, Abdul Haq, believed in innovation; he was always finding new and better ways to do things. His strongly established beliefs have guided Azof International into the present day, and have helped Azof become a leading manufacturing company in the tool manufacturing industry.
Abdul Haq came to Pakistan in 1947. Looking to move forward, towards a new life of opportunity, his entrepreneurial spirit guided him as he carried his few possessions in a small suitcase across the border. Applying his experience as a machinist, and being a natural entrepreneur, Abdul Haq started Azof in 1990 with the goal of delivering the best quality products. He believed in working smarter, not harder, and looked for ways to streamline complex processes and looked to technology to do so.
While we sadly lost our founder in January of 2000, his legacy and words of wisdom remain.
When Azof International Group started as a small company in 1990, the manufacturing world was very different and every employee felt like family. Since then, the company has grown and manufacturing has changed over the years, but we still cherish the importance of a family atmosphere and respect for employee's families.
To us, manufacturing is more than just making things using machinery. It's about saving people time by solving their problems. At Azof, we are committed to saving our customers' time. It's in our DNA. We are proud of our reputation for finding innovative solutions, incorporating new technology and proud to have long-term relationships with many of our customers as a result.
We are excited about the many new technologies that are creating a new era of manufacturing. Our team is ready to find the best ways to use them to best help our customers save time.
Manzoor Ahmed